Joint Protex Forte
As a result of innovative research, CaliVita® International has created Joint ProteX FORTE, the further developed version of the already well-known Joint ProteX. Joint ProteX FORTE is the version of the popular Joint ProteX with increased active ingredient content, for the extra protection of joints. Let us get acquainted more closely with joints and their functioning to better understand its effects.
The system of locomotion is composed of bones, muscles and joints, which, together with their accessory tissues (ligaments, cartilages, sinews, bursas etc.) guarantee the stability and agility of the body.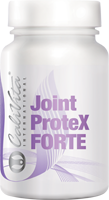 Joints are basically composed of bones, whose ends are covered with cartilage, a smooth, resistant, fl exible protective tissue. Cartilage is made up of collagen, water and a so called proteoglycans, its task is to reduce the friction between bones during motion of the joint. Joints are surrounded by a so -called articular membrane, the cells of which produce a little liquid, the articular fl uid, the main duty of which is also the reduction of friction. Some of our joints are stiff (for example metatarsal bones or the fixed joints of metacarpus that can be found on our palm), while some of them enable complicated motions. The range of motion is determined by the shape of the joint, while the joint itself is moved by the surrounding muscles. If any of the above listed is damaged in their functions, the functioning of the joints could be hindered.
There are some joints, which as compared to the others, we expose to greater strain in everyday life . Such are for example the knee joint or the joints of the hip, which have an enormous signifi cance not only because of their "24-hourservice", but because they have to carry the high percentage of our body weight as well. That is why certain professions or sports (for example hard physical work, weight lifting) and being overweight can put an extra burden on them, which may increase the risk of injury. The more and/or longer we get a joint to do extra work or to work a joint to extreme levels, the more we increase the risk of injury.
Another serious danger to joints is inadequately performed sporting activity too. Even simple jogging may be harmful for everyone, but primarily to overweight people, if we do it in an improper manner or in inadequate equipment such as running shoes. We must be very careful in winter, when "campaign-like" kinds of sports are popular such as skating, skiing, snowboarding etc., which require intensive power, especially if we do not prepare our locomotion system properly.
Joints undergo changes with advancement of age as well. As time passes, articular cartilage grows thin, the composition of cartilage (proteoglycans) change, the joint become less flexible. Articular surfaces glide less eff ectively on each other, moreover ligaments and tendons surrounding joints become stiffer too. The strength of adjacent muscles decrease, which may reduce the motion range of joints as well.
All this is a normal physiological process, but it is worthwhile noticing that we ourselves can do much for the health of our joints with a proper way of life and diet too.
We have compounded Joint ProteX FORTE of the most excellent joints supporting active ingredients. The increased dose glucosamine and chondroitin, by co-operating synergically, contribute to the construction and preservation of the main structural elements of cartilage, so they play an important role in proper mobility of the joints, and in maintaining their integrity as well as their regeneration. Hyaluronic acid, as a natural moisturizing substance guarantees  the viscosity of articular fl uids and reduces friction on the surface of cartilages. Methyl-sulfonyl- methane, also known as "MSM" promotes the preservation of the healthy structure of cartilage. Furthermore, the formula contains benefi cial plant extracts as well as zinc and manganese too.
In situations where extra eff ort is required to maintain the health of your joints, choose the extra support off ered by Joint ProteX FORTE!
Joint ProteX FORTE
active ingredients/tablet:
Glucosamine . . . . . . . . . . . . . . . . . . . . . . . . .500 mg
Chondroitin . . . . . . . . . . . . . . . . . . . . . . . . . .270 mg
Hyaluronic Acid . . . . . . . . . . . . . . . . . . . . . . 50 mg
Methyl Sulfonyl Methane . . . . . . . . . . . . .150 mg
Boswellia Serrata Extract. . . . . . . . . . . . . . 50 mg
Meadowsweet Powder . . . . . . . . . . . . . . . . 40 mg
Turmeric Extract . . . . . . . . . . . . . . . . . . . . . . . 10 mg
Zinc. . . . . . . . . . . . . . . . . . . . . . . . . . . . . . . . . . . . 5 mg
Manganese . . . . . . . . . . . . . . . . . . . . . . . . . . . . 1 mg