Pathogenes are ready to attack you and knock you off your feet not only during the fall and winter months but any part of the year, causing serious symptoms. However, with a proper diet and healthy lifestyle, you can prepare your body to fight pathogenes  This can be helped by Calivitas's latest unique development, the IMMUNVIREX complex immune booster.
Protection Against Pathogenes On Several Fronts
IMMUNVIREX CONTAINS A UNIQUE COMBINATION OF VITAMINS, MINERALS AND PLANT-BASED ACTIVE INGREDIENTS, THAT MAY HELP FIGHT AND TREAT PATHOGENS. 
THANKS TO THE VALUABLE ACTIVE INGREDIENTS, THE NEW PRODUCT SUPPORTS OUR BODY IN SEVERAL WAYS, APPROACHING FROM SEVERAL SIDES.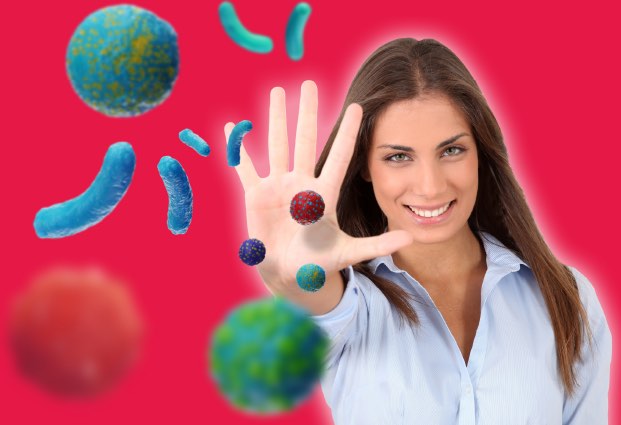 Prepares the organism for attack on pathogens. Beta-glucan helps support immune system readiness in case of a pathogen attack. Regular product consumption may reduce the frequency and severity of infections.

 

Stop to pathogens. The role of the organic zinc found in the product is to prevent the entry, adhesion and multiplication of pathogens in the body.

 

Ensures the functioning of the immune system. Vitamin D not only supports but "fine-tunes" the functioning of the immune system, which in turn regulates potential overactivity.

 

It has anti-inflammatory effect. The oriental herb, kudzu has anti-inflammatory and antioxidant effects.

 

It may inhibit the formation of cytokine storms and blood clots. Quercetin is a flavonoid found in plants, fruits and vegetables. It not only supports and regulates the immune system, but it also reduces the levels of cytokines that promote inflammation. It also inhibits blood clot formation.

 

Results in minder symptoms and faster recovery. Beneficial Lactocibacillus can reduce the frequency and severity of respiratory infections and shorten the duration of infectious diseases.

 




NATURAL PROTECTION

 

Immunvirex is free of any additives or artificial colouring and the capsule is 100% herbal. A single capsule contains a mix of active ingredients that have been proven to help protect your body against pathogens. 
IMMUNVIREX 30 VEGETARIAN CAPSULES ACTIVE
INGREDIENTS OF IMMUNVIREX/CAPSULE: 
Vitamin D3 (cholecalciferol) 400 IU 
Zinc (as aspartate) 10 mg 
Beta-glucan 30 mg 
Quercetin (as dihydrate) 200 mg
Bioperine 5 mg 
Kudzu (Pueraria lobata root) 50 mg 
Lb. rhamnosus 108 CFU 
Dosage: 1 capsule daily. 
Warning: Talk to your doctor if you have a known chronic illness or are taking medication. Kudzu can lower your blood pressure, blood sugar, slow down blood clotting, or interact with the drugs you currently take. 
Source: Zinc and respiratory tract infections: Perspectives for COVID‑19 (Review)-Anatoly V Skalny et al,, Int J Mol Med. 2020 Jul;46(1):17-26.; Integrative considerations during the COVID-19 pandemic – Alschulera et al., Explore (NY). 2020 Mar 26.; Individual risk management strategy and potential therapeutic options for the COVID-19 pandemic Clinical Immunology – AminGasmia et al., Available online 7 April 2020, ; Does vitamin D deficiency increase the severity of COVID-19? -E Kenneth Weir, et al., Clin Med (Lond). 2020 Jul; 20(4): e107–e108; Analysis of vitamin D level among asymptomatic and critically ill COVID-19 patients and its correlation with inflammatory markers -Anshul Jain et al., Nature, Scientific Reports volume 10, Article number: 20191 (2020) A role for quercetin in coronavirus disease 2019 (COVID-19)-Derosa et al., Phytotherapy Research. 2020;1–7 Structural characterization and immunomodulatory activity of a novel polysaccharide from Pueraria lobata (Willd.) Ohwi root -ZhouDong et al., International Journal of Biological Macromolecules Volume 154, 1 July 2020, Pages 1556-1564 How to boost the immune defence prior to respiratory virus infections with the special focus on coronavirus infections -Samir Jawhara et al., Gut Pathog (2020) 12:47; Enhancing immunity in viral infections, with special emphasis on COVID-19: A review -Rani Jayawardena et al.,Diabetes & Metabolic Syndrome: Clinical Research & Reviews Volume 14, Issue 4, July–August 2020, Pages 367-382; ECCVID 2020: Lower plasma zinc levels associated with increased risk of death in COVID-19 patients -Priscilla Lynch Conference Reports 23 Sep 2020; https://www.univadis.co.uk/viewarticle/eccvid-2020-lower-plasma-zinc-levels-associated-with-increased-risk-of-death-in-covid-19-patients-729760