#glamUp Calivita, the revolutionary beauty drink with collagen
Based on the title #glamup, you may ask yourself the question whether it's now time to talk about beauty when everything has been revolving around preserving our health and existence around the world for a long time. we believe it is. after all this period has put quite a lot of pressure on everybody's body and soul and challenged our perseverance so you, dear reader, also deserve a little pampering.
A little bit of this, a little bit of that
Caring and struggling for our beauty is part of our lives from adolescence. Probably you have also been worrying about the stretch marks you developed back then. Just like cellulite. Your shape has also always bothered you so you start an intensive slimming diet, which in turn leads to the appearance of more stretch marks. You've always been bothered by being too pale so the solarium is part of your routine once a week. You're also worried about your spots or their scars. You've tried all the creams and medicine and you are ready to try the latest trends to have baby skin.
When you already try to hide your age
And when you're past all this, the first wrinkles appear around your eyes after a long night out. From then on you mainly focus on reducing the wrinkles and making sure you stay youthful with tight and hydrated skin as long as possible. Although from the age of 30 your body gradually produces less and less collagen and hyaluronic acid to ensure the tightness and fullness of your skin and all this reaches its peak around the time of the menopause. It is around that time when you lose most of your collagen. Surely, cellulite and stretch marks may loyally stay with you, whether they are the heritage of the period after pregnancy or the fluctuations in your weight. Besides, your lifestyle shows more and more on your appearance. It becomes visible how smoking, alcohol, stress, the lack of sleep, excessive sugar consumption and the use of solarium has affected your health and also your skin, which may have become droopy with pigment marks by then.
#glamUp CaliVita, the revolutionary beauty drink
Let us present CaliVita's new revolutionary beauty drink, #glamUp. Because we believe  that all the above-mentioned esthetical "mistakes" can be improved. The key is related to the supplementation of the missing and depleting internal nutrients and antioxidants. #glamUp is literally revolutionary as its complex composition and high dosage is indeed unique on the market. Naturally, the main active ingredient is collagen, which is offered in the high quantity of 10 grams per dosage in the product. In order to avoid the unpleasant taste of fish collagen and minimize the risk of allergy, we extract collagen from cattle. Of course, if you have even drunk collagen, you know it isn't pleasant either, but we made it tasty by adding the citrus flavor. In addition to all this, the collagen in #glamUP is hydrolyzed so it is easy to digest and fast to absorb.
Collagen, hyaluronic acid and natural antioxidants
Collagen is not only able to get integrated in the skin but it also stimulates the internal collagen production of the skin, thus delaying the process of ageing and reducing the visibility of the already existing skin damages. Another important element of the complex composition is the hyaluronic acid, which plays a key role in the hydration and tightness of the skin, thus also delaying the process of ageing. This is then followed by the various natural antioxidants, such as carotenoids, phytoceramids, alpha lipoic acid, pomegranate extract, just like well-known Q10 and vitamin E. The primary task of  antioxidants is to protect collagen and skin cells from the damaging effects of various free radicals (UV radiation, smoking, sugary foods, stress, etc.) so they also help to delay the deepening of wrinkles.
So what can #glamUp active ingredients do for you?
They reduce the depth of wrinkles and help prevent the formation of new ones. They improve the hydration and tightness of your skin. They enhance the flexibility of your skin and stimulate its collagen production.
They help protect your skin from the damaging effects of sunbathing/ solarium, stress, bad lifestyle and smoking and increase its antioxidant protective ability.
If your face skin has spots, scars or pigment marks, collagen reduces inflammation and help to give your skin a uniform appearance.
They can fade stretch marks, whether they are the result of slimming diets, pregnancy or excessive muscle growth.
In case of eczema and surgical wounds and after cosmetic interventions (e.g. laser peeling, dermaplaning), they help the formation of new skin.
They can fade cellulite.
It's also important to stress that we took care of the purity of the product so #glamUP doesn't contain preservatives, coloring agents, added sugar, gluten, soy, lactose and it is GMO-free. We encourage you to get down to it and get yourself into explosive shape.
To achieve this, choose #glamUp as your natural solution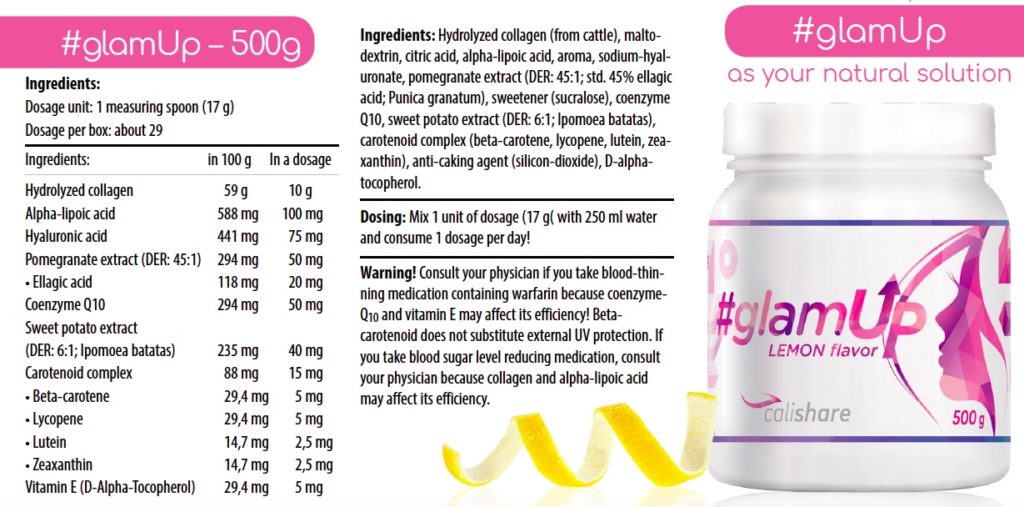 Let's get up for #glamUp CaliVita. Have you tried it?
"I've been using #glamUp for 3 months now and there are visible improvements on my face skin. Skin is less wrinkled, shinier, it has fewer spots and pigment marks. I also notice improvements with my hair and joint problems." Mojca P. 
The secret is in the ingredients. Its very high collagen content and complex "free from all" composition make #glamUp unique on the market. 10 grams of collagen per dosage is responsible for the tightness of the skin, which is made complete by hyaluronic acid for proper hydration. What's more, all this is topped with a number of natural antioxidants, all of which support the protection of the skin against harmful impacts (e.g. UV radiation) and strengthen its antioxidant ability. 
"I have used #glamUp for month and a half and the color of my pigment marks is lighter and my joints are more flexible and less painful. The price seems high at first, but I think it is reasonable regarding its quality and content. I also like the fact that it already contains CoQ10, which I use anyway." Valerija M. 
Could it be sheer coincidence that you also mentioned an improvement in the state of your joint problems? No. This is indeed a favorable extra effect, which receives less attention as we talk about a beauty product but it still works. Because collagen may help to reduce joint inflammation and pains. Besides, it may also cause the tissues to produce more collagen and delay their degradation. 
"It tastes surprisingly pleasant and its preparation is simple." Bojan K 
Of course, you need more than just a good compound of words to make a product successful. According to our experiences, flavoring is also important in addition to long-term application. We are proud to report that we can tick this expectation with the citrus flavoring of #glamUp because even though it contains bovine collagen, there are customers who are close to consuming #glamUp instead of soft drinks on fall days. 
Last but not least, we keep paying attention to the purity of the product. #glamUp does not contain preservatives, coloring agents or added sugar and it is free from GMO. 
"I am very happy with results, I can really say that the product is great and that I will continue using it regularly (also because coenzyme Q10 gives me energy for the day). Of course, I will also recommend it to everyone who wishes to maintain a youthful, fresh look and agile joints." Maja K. 
What else are you waiting for? Achieving the healthy and tight skin has never been so close!